Correspondence

Open Access

Open Peer Review
An integrated systems biology approach to the study of preterm birth using "-omic" technology - a guideline for research
BMC Pregnancy and Childbirth
2011
11:71
Received: 15 April 2011
Accepted: 12 October 2011
Published: 12 October 2011
Open Peer Review reports
Preterm birth, (PTB - birth before 37 weeks gestation), is the leading cause of neonatal mortality and is associated with up to 75% of long-term morbidity including developmental delay, cerebral palsy, retinopathy of prematurity, and hearing and vision problems [1, 2]. Despite medical advances and better understanding of uterine activation and parturition, the rates of PTB have been increasing over the past three decades in developed countries [3]. with current rates ranging from 5-7% [4]. and also complicate 9.6% of all births worldwide [5]. Late PTBs, defined as delivery at 34+0 weeks to 36+6 weeks of pregnancy [6], have risen 25% since 1990, [7]. now accounting for three quarters of preterm deliveries. This stark increase may be attributed to fetal indications, preterm premature rupture of membranes (PPROM) and its associated risks, and the increase in multiple pregnancies associated with assisted reproductive technology [8]
Complicating our understanding of PTB is that it's etiology is multifactorial and varies by gestational age. Among factors associated with increased risk of PTB are maternal smoking during pregnancy, [9, 10] advanced maternal age, [11, 12] sub-optimal weight gain during pregnancy, [13] maternal stress, [14–16] decidual thrombosis [17], cervical insufficiency [18, 19] and the presence of infection [20–22]. In addition, a variety of environmental and genetic play a role in PTB; however the effect size of these factors is not clear. In the United States, PTB occurs disproportionately in women of African ancestry [23, 24] even when controlling for social confounders. Twin studies suggest that the heritability of PTB may be 17-36% [25, 26]. Clinically, the best predictor of PTB is a prior history, [27, 28]. where recurrence risk increases by approximately 15% with each PTB [29]. Further, data suggest that the risk of PTB is inherited across generations [30]. As evidence increases for a genetic contribution to PTB, so does the need to explore genomics, transcriptomics, proteomics and metabolomics in its study.
High throughput systems biology, referred to as "-omics" technology has revolutionized research methodologies. Through these high throughput technologies and the generation of massive data sets, it is now possible to do in an afternoon what previously took several years and yet our understanding of the complex phenotypes of PTB remain incomplete, inconsistent and without clinical clarity. The "-omics" era has seen many publications (> 250, 000) however only a limited number (~6, 000) have been in reproductive medicine (Figure
1
). Many of the "-omics" publications relating to PTB have assessed single classes of "-omics" data, utilizing genomics, transcriptomics or proteomics in isolation. The results of many of these "-omics" publications have failed to replicate and their practical value has been limited, failing to translate into clinical practice. The limited successes of singular approaches emphasize the need for integrated approaches to investigate complex phenotypes across "-omics" categories.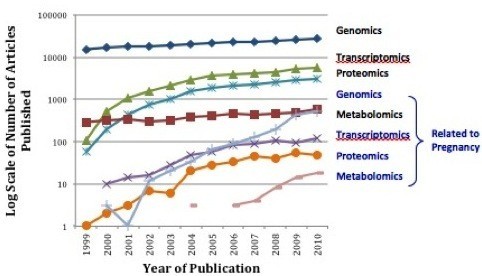 To support both singular and integrated systems biology approaches, the "-omics", or systems biology, movement has seen the development of multiple consortiums utilizing high throughput platforms to investigate complex phenotypes. Central to the study of complex phenotypes are accurate phenotype definitions. In the study of PTB, this necessitates collaboration among multiple research groups working synergistically to define phenotypes and to provide adequate sample size [31]Consortia, by design, employ multiple sites for the collection of phenotype data and biological samples with the goal of creating sample sizes large enough to power studies at levels impossible for any single research group, institute or funding opportunity. Moreover, "-omics" technologies require high quality biologic samples with specific, consistent and precise collection and handling. Key to effective consortia is consistency in information gathered, specimen collection, storage and management without which merging of data is problematic.
There is a need for guidelines for the conduct of integrated "-omics" studies into PTB. The genomic, transcriptomic and proteomic working group from the Preterm Birth International Collaborative (PREBIC) meeting in 2009 propose these suggested guidelines. The aim of this article is to establish guidelines for "-omics" studies of PTB such that data and samples collected can be merged, compared and replicated through consortia capable of integrated systems biology methodologies. The issues to be addressed in this guideline include: (1) integrated "-omics" approaches, (2) phenotyping, (3) sample collection, (4) data management-integrative databases, (5) international consortia and (6) translational feasibility.
(1)
Department of Obstetrics and Gynecology, University of Alberta, Edmonton, Alberta, Canada
(2)
School of Women's and Infants' Health, The University of Western Australia, Perth, Western Australia, Australia
(3)
Division of Obstetrics and Gynecology, Department of Women's and Children's Health, Karolinska University Hospital and Karolinkska Institutet, Stockholm, Sweden
(4)
Samuel Lunefeld Research Institute, University of Toronto, Toronto, Ontario, Canada
(5)
Department of Obstetrics and Gynecology, Section of Basic Reproductive Sciences, University of Colorado Anschutz Medical Campus, Aurora, Colorado, USA
(6)
Center for Human Genetics Research, Vanderbilt University, Nashville, Tennessee, USA
(7)
Ontario Institute for Cancer Research Toronto, Ontario, Canada
(8)
Department of Pediatrics, University of Washington School of Medicine and Treuman Katz Center for Pediatric Bioethics, Seattle, Washington, USA
(9)
Global Alliance to Prevent Prematurity and Stillbirth, an initiative of Seattle Children's, Seattle, Washington, USA
(10)
Department of Epidemiology, Emory University, Atlanta, Georgia and The Perinatal Research Center, Nashville, Tennessee, USA
(11)
Department of Obstetrics and Gynecology, University of Washington School of Medicine, Seattle, Washington, USA
© Gracie et al; licensee BioMed Central Ltd. 2011
This article is published under license to BioMed Central Ltd. This is an Open Access article distributed under the terms of the Creative Commons Attribution License (http://creativecommons.org/licenses/by/2.0), which permits unrestricted use, distribution, and reproduction in any medium, provided the original work is properly cited.