Research article
Open Access
Open Peer Review
This article has Open Peer Review reports available.
Clinical procedures and practices used in the perioperative treatment of female genital fistula during a prospective cohort study
BMC Pregnancy and Childbirth
2014
14:220
Received: 7 November 2013
Accepted: 27 June 2014
Published: 5 July 2014
Abstract
Background
Treatment and care for female genital fistula have become increasingly available over the last decade in countries across Africa and South Asia. Before the International Federation of Gynaecology and Obstetrics (FIGO) and partners published a global fistula training manual in 2011 there was no internationally recognized, standardized training curriculum, including perioperative care. The community of fistula care practitioners and advocates lacks data about the prevalence of various perioperative clinical procedures and practices and their potential programmatic implications are lacking.
Methods
Data presented here are from a prospective cohort study conducted between September 2007 and September 2010 at 11 fistula repair facilities supported by Fistula Care in five countries. Clinical procedures and practices used in the routine perioperative management of over 1300 women are described.
Results
More than two dozen clinical procedures and practices were tabulated. Some of them were commonly used at all sites (e.g., vaginal route of repair, 95.3% of cases); others were rare (e.g., flaps/grafts, 3.4%) or varied widely depending on site (e.g. for women with urinary fistula, the inter-quartile range for median duration of post-repair bladder catheterization was 14 to 29 days).
Conclusions
These findings show a wide range of clinical procedures and practices with different program implications for safety, efficacy, and cost-effectiveness. The variability indicates the need for further research so as to strengthen the evidence base for fistula treatment in developing countries.
Keywords
Female genital fistulaFistula repairClinical practicesPerioperative proceduresFistula treatment
Background
In resource poor settings, obstructed labor is one of the most common causes of maternal death [1, 2]. Among women who survive obstructed labor, many suffer severe and long-term sequelae; genital fistula is one of the most devastating. The global magnitude of the problem is not accurately known. The commonly cited estimate of over 2 million women living with fistula, and 50,000–100,000 new cases yearly seem to go back to a 1993 paper by Waaldijk and Armiy'u [3]; but varying more recent figures have been cited, including Dolea and AbouZahr's model-based global estimate of 0.8% of women aged 15–44 years or 2.15% of what they described as "neglected" obstructed labor cases – the predominant cause of fistula - and global estimates of women living with fistula ranging from 654,000 to 3.5 million [4]–[6].
Before the International Federation of Gynaecology and Obstetrics (FIGO) and partners published a global fistula training manual in 2011 [5] there was no internationally recognized, standardized training curriculum. In general, fistula surgeons and their teams have developed their own clinical procedures and practices for repair of genital fistula, drawing upon personal experience and trying to relate them to basic surgical principles. Various textbooks, specialist practical and training manuals, and the published literature - including a report by an international consultation on vesicovaginal fistula sponsored by the Societe Internationale d'Urologie and the International Consultation on Urological Diseases (SIU-ICUD) [6] - describe a range of procedures and practices. Consequently, there are a wide variety of pre-, intra- and postoperative procedures and practices in use today at fistula service sites. Indeed, Arrowsmith et al. surveyed fistula surgeons working in resource-poor settings about clinical practices and found wide variations in perioperative interventions; use of prophylactic antibiotics and postoperative urinary bladder catheterization were the only consistently reported practices [7]. Aside from such self-reported data by fistula surgeons, the current literature includes little evidence about what actually happens during the management of female genital fistula. The present paper tries to fill this gap.
We conducted a descriptive analysis of data on clinical procedures and practices gathered during a prospective cohort study about determinants of postoperative outcomes of female genital fistula repair surgery. The goals of this analysis were to describe procedures and practices in different contexts facilitating a better understanding of clinical realities, to compare the findings to what is described in the literature, and to identify potential areas for further research.
Methods
Data presented here are from a prospective cohort study designed to identify predictors of female genital fistula repair outcomes. The study was conducted among women seeking fistula repair services between September 2007 and September 2010 at 11 sites in five countries: Bangladesh (three sites), Guinea (one site), Niger (two sites), Nigeria (three sites), and Uganda (two sites). Site selection was purposive, and comprised fistula repair facilities supported by Fistula Care, an EngenderHealth project funded by the United States Agency for International Development.
Details of the study methods are presented elsewhere [8]. Briefly, the study included women who had a urinary fistula, a fecal fistula (all of them rectovaginal, RVF), or both. Fistulae of obstetric or traumatic origin were included. Study sites used their standard procedures and practices before, during, and after repair surgery. Data were collected during clinical examinations and interviews and reported on standardized forms at admission to hospital, during the hospital stay, at discharge, and at the three-month follow-up visit. Three month follow-up was routine practice at eight of the 11 study sites. However, we asked all sites to conduct a three month follow-up visit as part of the study.
The study protocol was reviewed and approved as required by institutional and government guidelines in the countries where study sites were located. Approvals were obtained from the Comite National d'Ethique pour la Recherche en Sante in Guinea; la Ministere de la Sante Publique in Niger; the National Health Research Ethics Committee in Nigeria; and the National Council for Science and Technology in Uganda. The Bangladesh Medical Research Council declined submission to review the study on the basis of its observational nature.Figure
1
shows the flow of study participants. A total of 1429 women were enrolled, ranging from 51 to 261 women per site at 10 of the sites, the variability based primarily on the site's caseload. The eleventh site enrolled only five women before fistula repair services were suspended because the sole fistula surgeon departed (data for these women were included in the analyses presented here).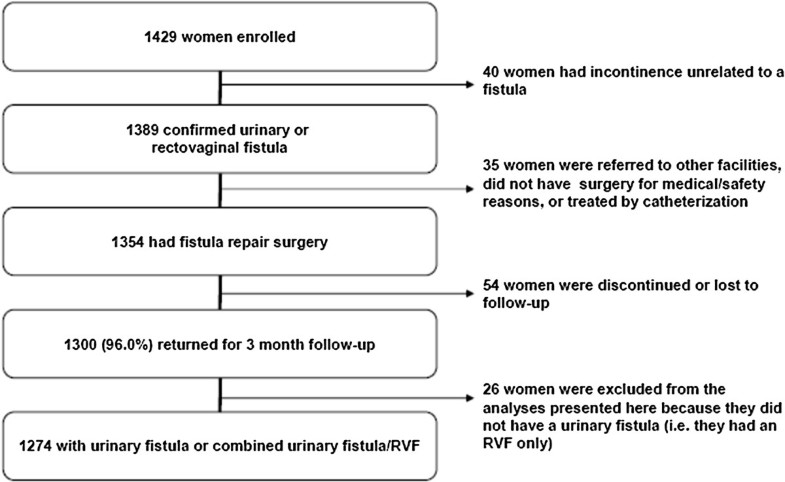 Data presented here are from the 1354 women who underwent fistula repair surgery during the study; the number of cases for specific procedures and practices varied slightly because of missing data for some variables. Women with RVF and no urinary fistula were excluded from analyses that were pertinent only to women with urinary fistula; e.g. drinking regimens prescribed, use of ureteric catheters, ureteric reimplantation, use of flaps/grafts, bladder sutures, duration of bladder catheterization, bladder training and dye test at the end of surgery, at catheter removal/discharge, and at 3 month follow-up). Descriptive data are presented by study site solely to show range in practice; tests of statistical significance are not used.
Results and discussion
Sociodemographic data and fistula characteristics
Detailed sociodemographic data of study participants and the characteristics of their fistula are reported elsewhere [8, 9]. A brief summary is provided here for context. Median age for women at time of repair was 25 years (IQR 20–35). At the time of fistula repair, over half (887/1334, 66.5%) of women reported they were married; 26.7% (356/1334) reported they were divorced or separated, most after fistula occurred. Median age at first marriage was 15.0 years (IQR 14.0–18.0). Most women (1149/1339, 85.8%) were from rural areas; approximately one-fifth (279/1351, 20.7%) had at least primary education. Median parity was 2.0 (IQR 1.0–5.0). Approximately one-fourth (22.9%, 310/1351) of women reported having a previous repair attempt, with a median of 1.0 (IQR 1.0–2.0) attempts. Almost all women (1311/1352, 97.0%) reported the fistula occurred after delivery.
Over 90% of women (1290/1354, 95.3%) had a urinary fistula; 3.1% (42/1354) had combined urinary and rectovaginal fistulae, and 1.6% (22/1354) had RVF without a urinary fistula. While few women (99/1319, 7.5%) had severe vaginal scarring, nearly 30% (349/1218, 28.7%) had a small bladder, and 40% (529/1316) had some involvement of the urethra. Only 5.8% (77/1318) of women had more than one urinary fistula.
Nearly 70% of urinary fistulae (895/1308, 68.4%) were midvaginal, juxta-urethral, or juxta-cervical. According to the surgeons' subjective assessment during exam under anesthesia, similar numbers of fistulae were categorized as simple (372/1312, 28.4%) or complex (376/1312, 28.7%). The remaining 43.0% (564/1312) were classified as intermediate.
Preoperative procedures and practices
Examination under anesthesia (EUA)
EUA was performed as part of and just before fistula surgery for 96.9% (1298/1340) of women. It was a separate independent procedure for only 3.1% (42/1340) of women, either because that was the site's routine practice (34.1%), fistula was hard to access (31.8%), pelvic examination was too painful (13.6%), severe vaginal scarring was present (9.1%), fistula was too small (4.5%), or, conversely, too large (4.5%). Waaldijk strongly discourages routine performance of separate preoperative EUA because of the extra requirements for time, anesthesia, expenses and delay of definitive treatment for the fistula [10]. However, surgeons, especially those not completely confident in being able to manage unexpected findings during repair surgery, may feel more comfortable if they perform a separate EUA so as to better prepare and, if necessary, refer to a more experienced practitioner.
Preoperative enema
Preoperative enema was administered to 24.9% of women (322/1295). For women with urinary fistula, the proportion was 24.3% (300/1234); for RVF, it was 38.1% (8/21); and for combined fistula, it was 35.0% (14/40). Ideally, the rectum should be empty before surgery to ensure a clean operating field and reduce chances of contamination; the FIGO Manual states enema as optional for urinary fistula but essential for RVF [5]. In our study, however, an enema was not routinely performed. Hancock also found that enema is not routine and is sometimes given at the last minute, leading to soiling during surgery and necessitating a temporary anal purse-string suture [11]. He proposed the option, if enema is not given the night before, that the woman be asked to empty her bowels before coming to theater.
Intraoperative procedures and practices
Postoperative procedures and practices
Procedures for diagnosis and management of early breakdown and residual incontinence
Fistula closure at 3 months was determined by pelvic examination, with a dye test in women who reported urine leakage. When no pelvic examination or dye test was conducted (186/1300, 14.6%), fistula closure was determined by the provider's response to the question "Does the client have continuous and uncontrolled leakage of urine?" Overall, urinary fistula closure at 3 months was 81.6% (1039/1274), although rates varied widely by site (Table 2).
Interestingly, two sites reported a small improvement in closure rates at three months (i.e., women discharged wet but coming back dry). Conversely, 41 women who were dry at discharge came back wet at 3 months (i.e., they experienced an early post-discharge breakdown). If such a case is suspected, the surgeon should question the woman carefully to try to determine the cause (e.g., over-distension of the bladder, early intercourse, infection) because, if women come back at once, small breakdowns can often be repaired or cured by placing an indwelling bladder catheter [11]. Counseling is therefore important to make sure women know that they should come back as soon as possible if they start leaking again.
Post-repair residual incontinence (i.e., some incontinence remaining after fistula closure) has been reported as a significant problem; some view it as a failure of the intervention since the woman is not restored to her pre-fistula continence state [7]. While most women with repaired urinary fistula (823/1041, 79.1%) were closed and dry at 3 months, nearly 20% (192/1015, 18.9%) had residual incontinence at 3 months post-repair, with rates varying widely among sites (Table 2). The most frequent type of incontinence was reportedly stress (169/1053, 16.0%), but formal urodynamic studies were not readily available at the study sites and diagnosis was primarily based on history and physical exam findings. Results of the survey by Arrowsmith et al. [7] also found that most surgeons reported they diagnosed post-repair urinary incontinence using a combination of history, physical examination, and a negative dye test.
Conclusions
This was one of the largest prospective multi-country studies of fistula repair services, covering a wide geographic area and a variety of economic and organizational conditions. The analyses presented here demonstrate wide variability in many perioperative procedures and practices, a finding that is not surprising given the lack of guidelines until recently and a dearth of empirical research evaluating the effectiveness of many of these procedures. A recent systematic review by Frajzyngier et al. [22] found that that only a small number of studies to date have empirically examined the effectiveness of various peri-operative procedures on repair outcomes; most were limited by small sample sizes and did not use rigorous epidemiologic research methods; confounding could not be excluded as an explanation for the results of many of these studies. Similarly, SIU-ICUD notes that the level of evidence for much of the research remains weak as many of the reports are based on personal case series [6].
The analyses presented here do not allow us to propose definitive changes, but the wide range in procedures and practices indicates that there is need for standardization. While the extent to which the recent guidelines have been rolled out and implemented in programs is still in question, their full utility will also continue to be unclear, given the continued lack of compelling evidence for optimal practices. Is it even reasonable to expect standardization of such practices without support from empirical studies? Further research is called for, especially on procedures that have particular implications for safety and cost effectiveness, including:
 The role of antibiotics in prophylaxis and the incidence of multi-drug resistant organisms; related practices have serious implications for financial and morbidity costs.

 The usefulness and safety of pre and postoperative fluid regimens.

 Best ancillary procedures for prevention of residual incontinence and the role of simple bed-side as well as formal urodynamic studies in its diagnosis and treatment.

 Catheter management for fistulae of different complexity levels; duration of catheterization, type of urinary drainage and need for bed rest or for in-patient management.

 The role of different techniques for bladder training and for pelvic floor rehabilitation in the treatment of postoperative pelvic floor dysfunction.
Finally, operational research is needed on counseling, its role in treatment outcomes and how to best support women's longer term reproductive intentions, including pregnancy or birth spacing.
Abbreviations
FIGO:

International Federation of Gynaecology and Obstetrics
ICUD:

International Consultation on Urological Disease
RVF:

Rectovaginal Fistula
SIU:

Societe Internationale d'Urologie
USAID:

United States Agency for International Development
VVF:

Vesicovaginal fistula.
Declarations
Acknowledgements
Fistula Care received funding support for this study under associate cooperative agreement GHS-A-00-07-00021-00 from the U.S. Agency for International Development (USAID).
The authors are grateful to the study coordinators, physicians, nurses, and social workers from the study sites for assistance with patient care and data collection; Mary Ellen Stanton, Erin Mielke, Patricia MacDonald, Neal Brandes, John Yeh, and Chelsea Smart from USAID for collaboration and advice on the study; Drs. Florina Serbanescu and Paul Stupp from the U.S. Centers for Disease Control and Prevention for assistance with sample size calculations; Karen Beattie and Evelyn Landry from Fistula Care for project management and for their contributions to interpretation of the analysis and review; Pamela B. Harper for editing the manuscript; EngenderHealth staff in Bangladesh, Guinea, Nigeria, Uganda, and New York, and Fistula Care's partner Reseau pour l'Eradication des Fistules (REF) in Niger, for their assistance in supporting study implementation; and Altine Diop, Julianne Deitch, and Sarah Burgess for assisting in data entry and cleaning. Part of this work was presented at the 2012 Societe Internationale d'Urologie Conference in Fukuoka, Japan.
Authors' Affiliations
(1)
EngenderHealth, New York, USA
(2)
Faridat Yakubu Hospital, Gusau, Nigeria
(3)
Kagando Hospital, Kagando, Uganda
(4)
Prefectoral Hospital of Kissidougou, Kissidougou, Guinea
(5)
Maryam Abacha Hospital, Sokoto, Nigeria
(6)
Specialist Fistula Centre Birnin Kebbi, Birnin Kebbi, Nigeria
(7)
Lamorde Hospital, Niamey, Niger
(8)
Maradi Hospital, Maradi, Niger
(9)
Kitovu Mission Hospital, Kampala, Uganda
(10)
LAMB Hospital, Rangpur Division, Parbatipur, Bangladesh
(11)
Kumudini Hospital, Narayanganj, Bangladesh
Copyright
© Ruminjo et al.; licensee BioMed Central Ltd. 2014
This article is published under license to BioMed Central Ltd. This is an Open Access article distributed under the terms of the Creative Commons Attribution License (http://creativecommons.org/licenses/by/2.0), which permits unrestricted use, distribution, and reproduction in any medium, provided the original work is properly credited. The Creative Commons Public Domain Dedication waiver (http://creativecommons.org/publicdomain/zero/1.0/) applies to the data made available in this article, unless otherwise stated.