Review of strategies

Open Access
Delivering interventions to reduce the global burden of stillbirths: improving service supply and community demand
BMC Pregnancy and Childbirth
2009
9(Suppl 1):S7
Abstract
Background
Although a number of antenatal and intrapartum interventions have shown some evidence of impact on stillbirth incidence, much confusion surrounds ideal strategies for delivering these interventions within health systems, particularly in low-/middle-income countries where 98% of the world's stillbirths occur. Improving the uptake of quality antenatal and intrapartum care is critical for evidence-based interventions to generate an impact at the population level. This concluding paper of a series of papers reviewing the evidence for stillbirth interventions examines the evidence for community and health systems approaches to improve uptake and quality of antenatal and intrapartum care, and synthesises programme and policy recommendations for how best to deliver evidence-based interventions at community and facility levels, across the continuum of care, to reduce stillbirths.
Methods
We systematically searched PubMed and the Cochrane Library for abstracts pertaining to community-based and health-systems strategies to increase uptake and quality of antenatal and intrapartum care services. We also sought abstracts which reported impact on stillbirths or perinatal mortality. Searches used multiple combinations of broad and specific search terms and prioritised rigorous randomised controlled trials and meta-analyses where available. Wherever eligible randomised controlled trials were identified after a Cochrane review had been published, we conducted new meta-analyses based on the original Cochrane criteria.
Results
In low-resource settings, cost, distance and the time needed to access care are major barriers for effective uptake of antenatal and particularly intrapartum services. A number of innovative strategies to surmount cost, distance, and time barriers to accessing care were identified and evaluated; of these, community financial incentives, loan/insurance schemes, and maternity waiting homes seem promising, but few studies have reported or evaluated the impact of the wide-scale implementation of these strategies on stillbirth rates. Strategies to improve quality of care by upgrading the skills of community cadres have shown demonstrable impact on perinatal mortality, particularly in conjunction with health systems strengthening and facilitation of referrals. Neonatal resuscitation training for physicians and other health workers shows potential to prevent many neonatal deaths currently misclassified as stillbirths. Perinatal audit systems, which aim to improve quality of care by identifying deficiencies in care, are a quality improvement measure that shows some evidence of benefit for changes in clinical practice that prevent stillbirths, and are strongly recommended wherever practical, whether as hospital case review or as confidential enquiry at district or national level.
Conclusion
Delivering interventions to reduce the global burden of stillbirths requires action at all levels of the health system. Packages of interventions should be tailored to local conditions, including local levels and causes of stillbirth, accessibility of care and health system resources and provider skill. Antenatal care can potentially serve as a platform to deliver interventions to improve maternal nutrition, promote behaviour change to reduce harmful exposures and risk of infections, screen for and treat risk factors, and encourage skilled attendance at birth. Following the example of high-income countries, improving intrapartum monitoring for fetal distress and access to Caesarean section in low-/middle-income countries appears to be key to reducing intrapartum stillbirth. In remote or low-resource settings, families and communities can be galvanised to demand and seek quality care through financial incentives and health promotion efforts of local cadres of health workers, though these interventions often require simultaneous health systems strengthening. Perinatal audit can aid in the development of better standards of care, improving quality in health systems. Effective strategies to prevent stillbirth are known; gaps remain in the data, the evidence and perhaps most significantly, the political will to implement these strategies at scale.
Keywords
Perinatal Mortality
Perinatal Outcome
Home Birth
Emergency Obstetric Care
Shoulder Dystocia
Introduction
The previous five papers in this series have focused on the global burden of stillbirths [
1
] and the evidence base for interventions [
2
–
5
] to reduce this burden. In order to prevent stillbirths, high-impact interventions must be effectively delivered through health systems and reach high coverage. Despite calls for action to improve stillbirth outcomes, the strategies for delivering such interventions in health systems and in communities remain unclear. Consensus is needed on priority interventions (Figure
1
), but also on strategies to deliver them. In this paper, we focus on the evidence for key strategies for delivering effective interventions.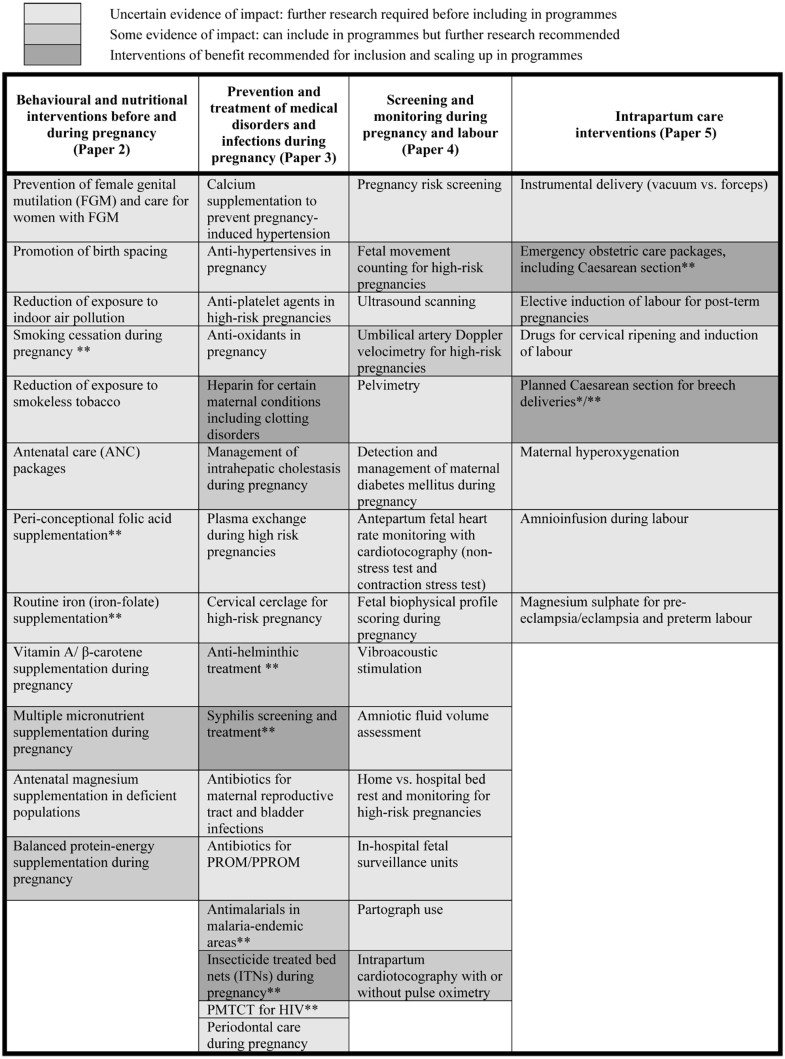 The interventions which need to be delivered in health systems have been reviewed in preceding papers in this series. Briefly, these interventions have included general supportive measures to improve environmental and social conditions as well as interventions that address maternal nutrition and prevention and management of maternal and fetal infections and conditions during pregnancy and childbirth. Based on our analysis of the evidence for impact of 62 different peri-conceptional, antenatal, and intrapartum maternal interventions on prevention of stillbirths, we categorised interventions into one of four levels according to the strength and quality of the evidence, and, therefore, the level of confidence in recommending interventions for wide-scale delivery in programmes (Figure 1). Five interventions of proven benefit in reducing stillbirths were identified: syphilis screening and treatment, use of insecticide-treated bednets in malaria-endemic areas during pregnancy, administration of heparin for certain maternal conditions including auto-immune and clotting disorders, and emergency obstetric care, including planned Caesarean section for breech delivery in settings where access to referral-level care is good. We presented caveats pertaining to the implementation of several of these interventions. Another 9 interventions were identified for which there was some evidence of impact, and we recommend that consideration be given to also including these in programmes; however, further research and monitoring of impact is required in programmatic settings.
Strategies to deliver those interventions with demonstrated or promising impact on stillbirths will need to employ a mix of service delivery modes, including family-community, outreach and clinical/facility-based platforms as used previously in the The Lancet Neonatal series and the World Bank Development report [6, 7].
Family-community interventions can be taught or administered to mothers and/or other family members, and include the adoption of improved preventive practices and appropriate care-seeking for illness. Family and community care interventions include strategies for community mobilization and the empowerment of individuals and communities to demand quality health care services and find solutions to financial, logistical, and social barriers to care-seeking for maternal and neonatal illness. These services can be provided by various cadres of workers, and should be tailored to the community's social and cultural environment [8].
Outreach interventions may be provided through static health facilities or periodic community visits, and usually involve provision of a standardised intervention. These activities typically require less skill and training than clinical care services [8]. Community-based, outreach interventions and interventions delivered at primary health clinics or peripheral facilities and district hospitals can be packaged as primary care interventions [7, 9].
Facility-dependent clinical interventions may be delivered at secondary or tertiary care settings. Secondary care is hospital-based and specialist-dependent, involving surgical or other advanced interventions that primary care providers cannot perform. Few of the interventions we considered require tertiary care, the most complex level of intervention demanding highly specialised, technology-dependent solutions [10].
The specific mix of interventions recommended for delivery at various levels of care will depend upon the level of and distribution of capabilities and resources within the local health system as well as local prevalence of risk factors for stillbirth. Some interventions, such as Caesarean section and amniotic fluid volume assessment, require resources based at well-equipped facilities, whereas interventions such as multiple micronutrient supplementation can be delivered via relatively straightforward outreach services.
In this paper, we examine a variety of intervention delivery strategies for prevention of stillbirth, including demand creation at the community level to improve access to and uptake of services, appropriate training of providers to perform these interventions, innovative ways of organising the health system and the ways in which care is delivered, and evaluative measures to improve quality of service.
Methods
Methods utilised in the review portion of this paper follow the methods that have been described in detail in Paper 1 of this series [
1
]. We considered the rigour of studies we included, assigning a level of evidence (LOE) to each study we reviewed as well as a grade for the total body of evidence for a given intervention using the SIGN system. In this particular paper, we reviewed twelve cross-cutting interventions (see Table
1
) that aim to improve access to and uptake of interventions, as well as quality of services delivered.
Table 1
Community and health-systems interventions to impact stillbirths reviewed in this paper
Community demand creation strategies
Emergency loan and insurance funds for emergency obstetric care
Financial incentives for care-seeking
Human resource development and training
Training of traditional birth attendants (TBAs) in clean delivery and referral
Training of other cadres of community health workers
Training of nurse-aides (including task-shifting) as birth attendants
Training to improve skills of professional midwives in antenatal and intrapartum care
Obstetric drills
Training in neonatal resuscitation for physicians and other health workers
Health system organizational strategies
Public-private partnerships to provide emergency obstetric care
Maternity waiting homes
Home birth with skilled attendance versus hospital birth for low-risk pregnancy
Evaluation strategies
Perinatal audit
Most of the interventions reviewed in this paper consider the impact of strategies of operationalising delivery of interventions, not the impact of biomedical or behavioural interventions themselves. In a few instances, studies we identified did not report impact on stillbirth or perinatal mortality specifically, yet contributed important information about innovative intervention delivery strategies that could be used to improve uptake or quality of interventions to prevent stillbirths. While we included these studies in our evaluation, only those interventions for which studies reported impact on perinatal mortality were included in summary tables; studies that did not report stillbirths or perinatal mortality outcomes were discussed wherever relevant in the text.
Results
Community demand creation strategies
In many settings, coverage of effective interventions that prevent stillbirth is low, in part because demand for these services is poor among the groups with the least resources, who stand to benefit most from accessing interventions [11]. Financial, geographic, and cultural barriers to care-seeking, as well as perceptions of poor quality of services at health facilities, discourage the use of services. Community demand creation refers not only to efforts to mobilise community awareness of health risks and promotion of best practices, but also to promote fiscal mechanisms to support uptake of these services [12]. Demand creation is most effective alongside supply-side efforts to strengthen health systems and improve quality of service provision in facilities.
Emergency loan/insurance funds for emergency obstetric care
Background
One of the major barriers to maternal and newborn health care is limited financial resources. A number of strategies have been developed to address demand-side barriers to accessing care, and thus incentivise care-seeking, especially in health emergencies. Strategies that have been employed in low-resource, rural settings include community emergency loan and insurance schemes. These schemes pool and manage capital to pay user/patient fees, transport and medication costs and follow-up care, as well as opportunity costs incurred during care-seeking such as missed wages, the combined costs of which can be catastrophic for families. Loans generally need to be repaid, whereas insurance schemes charge a fixed prepayment in exchange for the promise that a fraction or all of the cost of services will be reimbursed if utilised. These strategies spare families from the potentially catastrophic financial impact of obstetric complications [13], which have been documented to be as high as 34% of annual household income in Benin [14], and which are often higher at comprehensive essential obstetric care facilities that can provide emergency interventions such as Caesarean section and blood transfusion compared to basic obstetric care facilities (9 times higher in a recent study from Bangladesh) [15]. These schemes can incentivise care-seeking, particularly in emergencies.
Literature-based evidence
We evaluated the available evidence regarding the impact of community-based emergency loan or insurance schemes on maternal health and birth outcomes. Seven observational studies met our criteria for selection.
The studies we identified all described the implementation of community loan and insurance schemes for obstetric complications, but none reported the impact on stillbirths or perinatal mortality. Chiwuzie et al. [16] described a scheme to mobilise clans in Ekpoma, Nigeria to create emergency loan funds for obstetric complications, which occurred alongside upgrades to emergency obstetric services in local health facilities. Twelve of thirteen clans successfully launched loan funds and collected donations totaling US $793, of which 80% was contributed by community members. In the first year, 456 loans were requested, 83% were granted, and 93% were repaid in full. Loans were used to pay for emergency transport, medications, blood transfusions and hospital fees [LOE: 2+].
Two other studies reported the implementation of community loan schemes in Sierra Leone and Nigeria. The project in Nigeria [17] set up an emergency transport system that used private drivers charging a set fee for emergency transport and created a loan fund of US $20,500, from which 18 loans were made in 9 months [LOE: 2-]. Data on repayment or outcomes were not published. In Sierra Leone, women from two chiefdoms that established community loan funds [18] increased their utilization of obstetric services at the local government hospital compared to utilization prior to the fund (5 women in 1992 versus 12 in 1993) [LOE: 2-].
Several community-based insurance schemes relying on voluntary, flat-rate annual contributions for membership have reported increases in skilled attendance at delivery [19–21], with one study in the Democratic Republic of Congo reporting rates of skilled attendance 7 times higher among members of the insurance scheme compared to non-members. A much larger, nationwide social insurance scheme to provide for maternal and child health care in Bolivia increased ANC coverage and skilled attendance at birth by 50% in public facilities [22].
Conclusion
None of the studies evaluated loans or insurance for emergency obstetric care and pregnancy outcomes, and many schemes at community level were too small to measure meaningful changes in mortality rates, but the potential of these interventions to improve utilization of facility-based services and thus reduce perinatal mortality seems promising. Available evidence indicates that with relatively little outside financial input, communities can successfully set up and administer loan funds for emergency obstetric transport and care, with relatively low default rates. Sustained long-term loan and insurance schemes will require continuing community involvement with strong leadership to raise and manage funds, follow-up on defaults, and maintain records [23]. These initiatives require sufficient resources to cover administrative costs to collect funds or insurance premiums and oversee their proper distribution. In addition, schemes may fail, especially if collection of funds is insufficient to cover costs or default rates are high, or may exclude the poorest individuals. In some of these areas, an alternative to these community-based schemes could potentially take the form of national or district-level government sponsorship and/or management of obstetric risk insurance programmes, a strategy which has been successful in increasing access to comprehensive essential obstetric care and postnatal care in Mauritania [24], and which waives costs of coverage for the poorest individuals. Further studies to assess the impact of loan and insurance schemes on maternal/neonatal health care access and stillbirth/perinatal outcomes are needed, as is operational research to identify best practices to administer these schemes.
Financial incentives for care-seeking
Background
In addition to community loan schemes, a number of other strategies have been developed to minimise financial barriers to care-seeking, protect families from catastrophic costs of obstetric emergencies, and stimulate demand among poor or otherwise marginalised women. These strategies include conditional cash transfers and voucher schemes. Conditional cash transfers provide money to individuals or families, on the condition of their using specific health services such as antenatal care (ANC), skilled birth attendance at a facility, or postnatal services [25]. Conditional cash transfers alone do not solve all access issues, as they are made after care is received and require that recipients cover transport expenses before receiving funds. However, conditional cash transfers can reduce long-term indebtedness because they can be used to repay emergency loans from family, neighbors, banks, or community schemes. Voucher schemes are another relatively new strategy to generate demand; women given vouchers at the community level can redeem them for pre-specified services at participating (contracted) health facilities [26]. These are particularly useful in non-cash economies, and limit expenditures to transport and opportunity costs.
Literature-based evidence
Nine studies were identified with relevance to utilization of antenatal and obstetric services and are discussed in this section; none reported impact on perinatal mortality outcomes.
In a review of conditional cash transfers to families in low-/middle-income countries, Lagarde et al. (2007) [27] assessed associated improvements in the health and education of children beneficiaries of the program. Although limited, the evidence suggested that these led to improved uptake of interventions and some health benefits. One study in this review of capped transfers in Brazil [28], in which mothers received funds after accessing care calculated based on whether they were pregnant, lactating, and/or the number of children they had under age 7, was associated with a 19-percentage-point increase in ANC attendance. Other observational studies of conditional cash transfers have shown increases in uptake of ANC. In Mexico, the Progresa/Oportunidades project documented increases in ANC utilization of 8 percent during the first trimester [29, 30]; in Honduras, conditional cash transfers led to ANC coverage increases of 15–20 percent [31].
A national-level fiscal incentive programme introduced in 2005 by the Indian government under the umbrella of the National Rural Health Mission to promote facility-based deliveries, called the Janani Suraksha Yojana (JSY) Programme, provides cash assistance to poor rural pregnant women at childbirth and postnatally for their first and second pregnancy, with additional funds for emergency transport and Caesarean section [32]. Utilization of skilled care and facility-based services increased from 10.85 million beneficiaries in 2005–6 to 13.59 million in 2007–8 [33]. A similar program is in operation in Nepal, in which the government finances facility-based delivery in poor areas and provides conditional cash transfers to women who receive services at facilities as well as to their care providers [34].
Several ongoing projects are evaluating the ability of voucher systems to increase access to obstetric care, as well as to preventive interventions. In India, the Government of Gujarat introduced voucher schemes to increase the access of poor women to antenatal, obstetric and neonatal health care [35]. As part of a World Bank programme to improve pregnancy outcomes in western Uganda, 170,000 safe delivery vouchers were distributed to pregnant women covering services including Caesarean section at a number of public and private service providers [36]; no outcome data are yet available. In Tanzania, a nationwide voucher scheme was introduced to provide free or discounted insecticide-treated bed nets to pregnant women and mothers of young children to prevent malaria; although distribution of bed nets has been highly successful in preventing malaria and cost-effective, no data have yet been published evaluating the impact of the program on maternal or perinatal mortality [37, 38][LOE: 2-].
Conclusion
The financial incentive schemes detailed here offer an opportunity to effectively target specific groups of individuals in a society, reduce reliance on cash in subsistence economies [25], and effectively promote uptake of services. To date, many of the studies testing various financial incentives to generate community demand for services have not published outcomes, barring quantification of the effect of these programs on birth outcomes. Most of the projects profiled have been funded by private or international donors or public-private partnerships rather than governments alone, and their effectiveness, cost, scalability, and sustainability are still unknown.
The incentive programmes detailed above do not cover time and transport costs, which can vary greatly among settings; for example, studies have indicated that combined time and transport costs range from 9–14% of total annual household expenditure in Nepal, compared to 65–93% in Tanzania [39, 40]. Unless financial incentive programmes are expanded to include funds for emergency transport or are effectively integrated with sustainable community loan or insurance schemes, these costs are likely to continue to impede access. Voucher schemes run the risk of "leakage" (sale on the black market or use by non-targeted individuals) [38]. In health systems with user fees, community demand may be sufficient, and the population in need so broad, that merely rescinding such fees could improve rates of uptake of services and subsequent perinatal health outcomes [41]. Global interest in financial incentive strategies is burgeoning; programme managers should be encouraged to measure perinatal mortality outcomes, particularly stillbirths, wherever feasible.
Human resource development and training
The critical role of formally trained professional health personnel – primarily physicians and nurses – in primary care and community settings is well recognised. Shortages of formally trained health workers in some countries has been underscored as a major barrier to implementation of key maternal and newborn interventions [42, 43]. Delivering key interventions effectively requires proper training for these health workers as a means of promoting appropriate care, as well as providing adequate supervision and linkages with the formal health system. However, there are also numerous other cadres of health workers, including Traditional birth attendants (TBAs), midwives, other CHWs, and nurse aides, who are already active, or could potentially be utilised, in delivering interventions [44]. In this section, the potential roles and impact of these providers are examined.
Health system organizational strategies
Discussion
Summary of evidence to improve service supply and community demand for interventions to prevent stillbirth
Several innovative strategies have been examined to promote the utilization and quality of interventions to improve perinatal outcomes and prevent stillbirth; however, few have been tested at scale. These strategies include community-based schemes to generate demand and finance care where cost is a barrier, efforts to upgrade or evaluate the skills of health care providers, and innovative ways of re-organizing care to make obstetric care – particularly the subset of interventions that constitute emergency obstetric care – more accessible, affordable, and effective. The evidence for health systems strategies to improve uptake and quality of interventions to prevent stillbirth is summarised in Table
11
.
Table 11
Collective grading of evidence for impact of health systems and human resource interventions on stillbirth and related perinatal outcomes
Evidence of no or negative impact

(leave out of programs)

Uncertain evidence

(need for additional research before including in programs)

Some evidence

(may include in programs, but further evaluation is warranted)

Clear evidence

(merits inclusion in programs)

Emergency loan/insurance funds for obstetric emergencies

X

Financial incentives to improve access to emergency obstetric care

X

Training traditional birth attendants in clean delivery and referral

X

Training of other cadres of community health workers

X

Training nurse-aides as birth attendants (including Caesarean section)

X

Training professional midwives in antenatal and intrapartum care

X

Obstetric drills

X

Training in neonatal resuscitation for physicians and other health workers

X

Public-private partnerships

X

Maternity waiting homes

X

Home birth with skilled attendance versus hospital birth

X

(high-income country studies only; no disadvantage to home birth)

Perinatal audit

X
Community demand-side interventions to improve accessibility and uptake of facility-based care appear to be effective in many settings, particularly where quality facility-based care is available but cost of services or transport impedes care-seeking. Although most studies of community-based loan/insurance schemes and financial incentives involve populations which are too small to assess statistically significant changes in birth outcomes, they offer promising models of improving accessibility of care that may improve care-seeking while sparing families from catastrophic household expenditures. Similarly, maternity waiting homes have not yet shown a demonstrable impact on stillbirths due to limitations in size and design of the studies on this subject. The reported maternal and infant benefits of maternity waiting homes suggest that their availability for primiparas and high-risk pregnancies in areas with poor access to emergency obstetric care might prevent stillbirths. Sustainability of these schemes is challenging; public-private partnerships may offer one possible option for financing care.
Although evidence from rigorous studies is limited, a number of studies suggest that cadres of health workers other than physicians have an important role to play in the prevention of stillbirths. The impact of training TBAs in clean delivery and management of birth asphyxia is small but significant, suggesting that this important human resource should not be overlooked in community-based efforts to improve birth outcomes. TBAs can also aid in the transfer of women with complications to health facilities, particularly in settings where TBAs are widely utilised and where the formal health system is dysfunctional or nonexistent. In certain settings where doctors are unavailable, task-shifting to other cadres of health workers to perform Caesarean section and neonatal resuscitation may be feasible, low-cost and effective [71, 73, 72, 74]. However, limited data are currently available to indicate mortality impact for maternal, stillbirth and neonatal outcomes and further research is needed, especially outside Africa.
Quality of facility-based care is critical to prevent stillbirths, particularly intrapartum stillbirths. Perinatal audit offers an important tool to systematically review stillbirth cases and to improve quality by changing provider behavior, hospital policy, and/or national guidelines, and has shown evidence of impact in a variety of settings [141].
In low-/middle-income countries, the demonstration projects with the largest impact on stillbirth and perinatal mortality have been those that galvanise stakeholders from communities, health systems, government, donors, and/or the policy community and implement a package of biomedical interventions, coupled with community mobilisation and health systems strengthening. The MotherCare demonstration projects in Bolivia, Guatemala, Indonesia, and Nigeria [49] and the large declines in stillbirths in peri-urban slums in Pakistan by Jokhio et al. [47] offer illustrative examples of how community activism, improved provider skills, and efforts to overcome infrastructural limitations can act synergistically to reduce perinatal mortality.
Delivery approaches must be tailored to setting-specific needs and resource constraints. For example, in secondary or tertiary-care facilities in middle- or high-income countries, skills training in neonatal resuscitation for physicians in conjunction with perinatal audit may be sufficient to bring about significant improvements in quality of care for asphyxiated infants who would otherwise be misreported as stillbirths. In low-/middle-income-country settings where home births are common, facility-based care is perceived to be of poor quality, and financial barriers to accessing care are high, community-based demand creation strategies such as loan schemes and health promotion using community health workers could complement interventions to improve quality of care through increasing capabilities of providers, health systems strengthening, and/or perinatal audit. Where improving access to facilities for intrapartum care is geographically infeasible, it may be possible to upgrade the skills of TBAs to conduct clean delivery while working to link them with the formal health system and to raise community awareness of the preventability of perinatal death and the importance of ANC and birth preparedness. Whether skilled birth attendants can effectively triage and refer high-risk births in rural areas of low-/middle-income countries, while safely attending low-risk births at home or in birthing centres, has not been adequately tested. Current evidence suggests that in high-income countries, perinatal outcomes are similar between home and hospital settings for low-risk pregnancies. In instances where access to emergency obstetric care is limited, attempting intervention approaches such as emergency transport or maternity waiting homes, while expanding access to emergency obstetric care through innovative public-private sector linkages, can potentially improve uptake of care and provide a safety net for women who deliver at home or in birthing centres without emergency obstetric services.
Delivering effective interventions to prevent stillbirths: summary of recommendations for programmes (Table 12)
Table 12
Key programme recommendations to reduce stillbirths
1. Community demand creation strategies and training of appropriate human resources for health promotion and preventive interventions.
2. Antenatal care to deliver quality interventions and to screen for high risk pregnancies
3. Recognition and management of maternal infections during pregnancy, such as syphilis and malaria
4. Skilled attendance at birth and emergency obstetric care availability (including Caesarean section)
The previous five papers in this series have evaluated a range of behavioural, nutritional, clinical, and monitoring interventions across the continuum of care from pre-conception through the intrapartum period. A summary of the evidence base for the interventions we reviewed in the first five papers has been presented in Figure 1. Only 5 interventions showed clear evidence of impact on stillbirth incidence. There was some evidence for an impact of 9 other interventions, but a lack of study rigor and/or insufficient numbers of studies suggest that further evidence is needed before their impact on stillbirths can be assessed conclusively. We found either a lack of evidence or no evidence of impact for the remaining 46 interventions we considered, revealing the lacunae in our understanding of which interventions can reduce stillbirth, and by what measure. Many studies were underpowered to detect impact on stillbirths, having been designed to measure other outcomes. In many instances we were forced to rely exclusively on observational studies, although in some instances current practice guidelines strongly support an impact on stillbirths: for example, provision of emergency obstetric care and intrapartum monitoring with access to Caesarean section.
Table
13
details the potential care providers and delivery strategies for promoting various interventions with some or clear benefit of impact on stillbirths or perinatal mortality, and which we short-listed for scaling up or further evaluation. Some of these, such as anti-helminthic treatment or malaria chemoprophylaxis, are deliverable as part of available routine packages of care through outreach or routine ANC, whereas others, such as insecticide-treated bed net use, might also require special promotional or behaviour change strategies such as mass media campaigns at the community level.
Table 13
Possible delivery strategies for interventions with some or clear evidence of impact on stillbirths
| | Mass media (including social marketing strategies, health days, etc) | Facilitated community and advocacy groups | TBAs | Trained CHWs (outreach workers) | Community-based professional midwives | Other cadres of facility-based health workers | Medical/nursing staff in first-level facilities |
| --- | --- | --- | --- | --- | --- | --- | --- |
| Multiple micronutrient supplementation | | + | + | ✓ | ✓ | ✓ | ✓ |
| Balanced protein-energy supplementation | | + | + | ✓ | ✓ | ✓ | ✓ |
| Anti-malarials in pregnancy | + | + | | ✓ | ✓ | ✓ | ✓ |
| Insecticide-treated bed nets in pregnancy | + | ✓ | ✓ | ✓ | ✓ | ✓ | |
| Heparin in pregnancy for clotting disorders and antiphospholipid syndrome | | | | | | | ✓ |
| Anti-helminthic treatment in pregnancy | | | | ✓ | ✓ | ✓ | ✓ |
| Syphilis screening and treatment in pregnancy | | | | + | ✓ | | ✓ |
| Management of intrahepatic cholestasis in pregnancy | | | | | | | ✓ |
| Fetal movement counting (in high-risk pregnancy) | | | + | + | ✓ | ✓ | ✓ |
| Doppler monitoring (in high-risk pregnancy) | | | | | | | ✓ |
| Intrapartum cardiotocography (with access to Caesarean section) | | | | | | | ✓ |
| Amniotic fluid volume assessment in pregnancy | | | | | | | ✓ |
| Emergency obstetric care packages, including Caesarean section | | + | + | + | + | ✓ | ✓ |
| Elective induction of labour in post-term pregnancies | | | + | | + | | ✓ |
| Planned Caesarean section for term breech presentation* | | | | | + | | ✓ |
| Perinatal audit | | ✓ | | | ✓ | | ✓ |
We propose some clear priorities for promoting the delivery of interventions in programmes. Firstly improving coverage of skilled birth attendance and emergency obstetric care is the top priority, as skilled attendance is consistently associated with reductions in intrapartum stillbirth and decreased maternal mortality [142]. However, there are some areas of the world with such a dearth of skilled birth attendants that even aggressive and developed training programmes cannot achieve a high proportion of births with skilled attendance in the short term [143, 144]. In these situations, there is positive but limited evidence from this review that training different cadres of community workers, including TBAs, to provide basic clean childbirth care and to refer complications has the potential to have a small positive impact on birth outcomes. TBAs have been successfully trained in some studies to work in tandem with other health workers and can build effective linkages with health systems for referrals [56, 60].
Disappointingly, few interventions to detect problems late in pregnancy and during labour are supported by rigorous evidence from RCTs. In general, the effectiveness of screening procedures and monitoring techniques is limited, particularly for low-risk pregnancies, and none of the interventions reviewed can be recommended presently for inclusion in programs. There is a need for further research to confirm whether identification and appropriate management of high-risk pregnancies, including multiple pregnancy, breech presentation, and pregnancies with evidence of inadequate fetal growth; and effective management of maternal conditions such as diabetes, hypertensive disorders, and clotting disorders, can effectively prevent stillbirths. Improving rates of skilled attendance at birth and access to safe, high-quality emergency obstetric care are of paramount importance, as women without access to such care have a well-documented increased risk of stillbirth [145–147]. Observational and historical data from high-income countries suggests that the introduction of fetal monitoring in conjunction with the availability of Caesarean section for fetal distress has led to significant declines in stillbirth rates [148–150], suggesting that monitoring technologies may be effective in preventing stillbirth where safe Caesarean section is or can be made available. Because Caesarean section carries higher risks of maternal morbidity and mortality, as well as adverse outcomes in subsequent pregnancies if access to care is poor; it is thus recommended that in low-resource settings, Caesarean section be conducted only when clinically indicated.
The second priority is to address maternal infections, especially syphilis and malaria in endemic areas. Maternal infections are estimated to contribute to 25–50% of stillbirths in low-/middle-income countries, although systematic estimates are lacking [151]. In areas where syphilis prevalence is high or malaria is endemic, interventions to prevent or treat these infections are a major weapon in the arsenal to reduce stillbirth incidence. In some areas of southern Africa, one-quarter to one-half of all stillbirths occur in women seropositive for syphilis, and it is estimated that in these settings, 25% of all stillbirths may be caused by syphilis [152]. Evidence from Tanzania suggests that effective syphilis treatment could dramatically reduce stillbirth rates where prevalence is high, as treatment reduced the risk of stillbirth to rates comparable to those observed among women without syphilis infection [153]. Programmes must grapple with logistical challenges to screening and treating syphilis infection, as well as partner identification.
Nearly 40% of the world's population lives in malaria-endemic areas, a known risk factor for stillbirth [154]. Intermittent preventive treatment of malaria and use of insecticide-treated bed nets during pregnancy can protect women from maternal malaria during pregnancy and reduce stillbirth rates among women in their first or second pregnancy; these interventions can be provided using a combination of outreach and community-based strategies.
Thirdly, quality ANC offers an entry point to the health system and may increase the likelihood that women obtain timely emergency obstetric care [142]. An ANC contact alone is of uncertain benefit for stillbirth reduction; further research is needed to identify the most effective components of antenatal care, and the extent to which this platform can be built upon to increase utilisation of skilled intrapartum care.
An important linked priority is to promote demand for services through a range of CHWs operating through outreach programmes and working in tandem with community groups [56, 60]. Communities themselves have many resources available to improve perinatal outcomes; many interventions recommended for scaling up either can be performed by community workers with limited training, or would be rendered more effective alongside community-based efforts to improve uptake or accessibility at the community level. Continuing to emphasise, promote, and incentivise skilled birth attendance wherever feasible; early recognition of complications both antenatally and during labour, and community-facility strategies to overcome barriers to care and facilitate rapid referral to emergency obstetric care for complications could prevent many stillbirths in low-/middle-income countries.
Delivering effective interventions to prevent stillbirths: recommendations for policy and research
Although stillbirth is one of the most common adverse outcomes of pregnancy, stillbirth has been largely overlooked by policy makers and researchers. The dearth of studies for most interventions we reviewed illustrates the lack of priority historically afforded to stillbirth research. There is convincing evidence from RCTs and observational studies that delivery at scale of interventions such as skilled attendance at birth, including intrapartum monitoring with access to operative delivery, and prevention and treatment of syphilis and malaria can bring about clinically significant reductions in stillbirth rates, but political will to invest in these interventions is still lacking.
One reason for this hampered progress toward reducing stillbirths is the research gaps that surround stillbirth causation and prevention. Currently the findings of the few studies reporting stillbirth as an outcome typically had other primary outcomes and were often underpowered to detect impact on stillbirths, or had poor generalisability to different health systems and circumstances. Donors and governments need to be encouraged to commit to funding large-scale efficacy and effectiveness studies of interventions that could prevent stillbirth. Investigators of large RCTs of interventions with potential impact on stillbirths should be encouraged to collect data on and report stillbirths with their study findings, disaggregated from the vague composite measure of perinatal mortality. Some risk factors such as malnutrition are well-documented, but strategies to improve maternal nutritional status and thereby reduce stillbirth incidence have met with limited success. Other risk factors and causes of stillbirths are still unknown, and there is insufficient evidence to recommend a number of potentially promising interventions to treat risk factors for stillbirth, including diabetes, maternal hypertensive disorders, and chorioamnionitis. Reducing chorioamnionitis is of particular import, as more than 50% of early stillbirths in all settings are associated with chorioamnionitis.
Many stillbirths could be prevented if pregnant women had access to quality peri-conceptional care and ANC during pregnancy, skilled attendance at birth, and emergency obstetric care for complications. Committing funding to expand coverage and quality of these services is imperative. The implementation of such improvements is bedeviled by logistical challenges in identifying risk, securing rapid transport, and providing timely intervention at facilities [147]. In areas where provision of such care is presently difficult or impossible, there is a need to develop innovative ways of "bridging the gaps" to bring quality antenatal and intrapartum care to poor rural and urban women. Financial schemes to reduce financial barriers and maternity waiting homes and emergency transport schemes to reduce physical access barriers are promising approaches that merit further testing. Locally tailored versions of emergency obstetric drills for shoulder dystocia and Caesarean section may prove an effective performance improvement strategy even in fairly resource-poor settings; however, this strategy has not yet been tested.
In strategically advocating for stillbirth prevention, existing maternal and newborn health initiatives can and must be galvanised to include stillbirth prevention as part of their advocacy for resources. Many of the interventions that can impact stillbirths are also of benefit to mothers and newborns, including access to emergency obstetric care, screening and treatment of syphilis and measures to reduce the burden of malaria (Table
14
). Improved maternal nutrition during pregnancy positively impacts maternal health status, and may affect long-term developmental outcomes of the child after birth. As an illustrative example, although there is limited evidence that balanced protein-energy supplements can reduce stillbirth rates [
155
], the evidence base indicates that these supplements reduce rates of low birth weight, which may improve long-term outcomes significantly. Micronutrient supplementation containing iron can reduce rates of maternal anaemia and correct other micronutrient deficiencies; and although its impact on stillbirths remains inconclusive, periconceptual folic acid intake can significantly reduce rates of neural tube defects in the newborn [
156
], thereby potentially reducing infant morbidity and mortality [
157
]. Advocacy initiatives can draw on this complementarity of maternal and newborn health with stillbirth interventions to strengthen arguments for increases in global funding for antenatal and intrapartum services.
Table 14
Interventions with evidence of synergistic impact on stillbirth and maternal and neonatal health outcomes
| | Evidence of stillbirth reduction | Maternal benefit | Neonatal/infant benefit |
| --- | --- | --- | --- |
| Antenatal multiple micronutrient supplementation | * | Reduced anemia (iron-containing supplements) | Improved micronutrient status and survival |
| Balanced protein-energy supplementation | * | Improved nutritional status | Reductions in low birth weight |
| Maternal deworming | * | Reduced anemia, improved nutritional status | |
| Syphilis screening and treatment | ** | Eradication of syphilis infection | Reductions in congenital syphilis (neonatal morbidity and mortality) |
| Malaria chemoprophylaxis | * | Reduced burden of malaria and anemia, reduced maternal mortality | |
| Insecticide-treated bed net use in pregnancy | ** | Reduced burden of malaria and anemia, reduced maternal mortality | |
| Intrapartum cardiotocography with or without pulse oximetry | * | - | Reduced birth asphyxia, neonatal mortality |
| Emergency obstetric care packages | **1 | Reduced maternal morbidity and mortality | Reduced neonatal morbidity and mortality |
Under-reporting of stillbirths, a lack of data on population-attributable fractions of stillbirth by cause, and a lack of priority accorded to investigating the role of care providers in preventing perinatal deaths all contribute to a lack of global priority for stillbirth research and interventions. There is a need for better surveillance and ascertainment of stillbirth incidence at all levels of health facilities and in communities where stillbirth is a private and stigmatised event that is often hidden from view. Verbal autopsy strategies offer one potential means of identifying causes of stillbirths at community level. In facilities, particularly those with adequate diagnostic and laboratory capacity, standardised templates and classification schemes may help better document stillbirths and shed light on the population-attributable fractions of stillbirths associated with particular causes and risk factors. To improve quality of care in hospitals, districts, and regions with high rates of stillbirths and perinatal mortality, we recommend further research regarding the impact of emergency obstetric drills on provider practices and perinatal mortality outcomes, as well as more widespread use of perinatal audit systems. Perinatal audit systems hold considerable promise for improving maternal and newborn outcomes [87, 124, 139, 158]. Audit recommendations can bring about improvements in case management, hospital policies, standards of care, and national guidelines that can help improve quality of care and consequently reduce the burden of preventable stillbirths and perinatal mortality.
Conclusion
While large evidence gaps remain, there is a compelling case that scaling up several interventions, particularly emergency obstetric care packages; screening and treatment for maternal infections especially syphilis, and malaria prevention and treatment could substantially reduce the burden of stillbirths in low-/middle-income countries. We also have parallel evidence from a range of delivery strategies addressing barriers to access to care, and task-shifting, including use of alternative cadres of non-physician health workers, which suggests that these interventions can be implemented and scaled up in situations where they are most needed. Key data gaps also remain, particularly effective tracing of stillbirths in national household surveys and the establishment of a classification system that ensures visibility and available data for action. However, the largest remaining gap is for more widespread recognition and political commitment to reduce this massive loss of life of at least 3.2 million stillbirths, 1 million of which occur right at the time of birth.
Abbreviations
ACOG:

American College of Obstetricians and Gynaecologists
ANC:

antenatal care
CEMACH:

Confidential Enquiry into Maternal and Child Health
CHW:

community health worker
JSY:

Janani Suraksha Yojana
LOE:

Level of Evidence
OR:

odds ratio
RCT:

randomised controlled trial
RR:

relative risk
TBA:

traditional birth attendant
WHO:

World Health Organization.
Declarations
Acknowledgements
This series was supported by the Saving Newborn Lives programme of Save the Children-US through a grant from the Bill & Melinda Gates Foundation.
This article has been published as part of BMC Pregnancy and Childbirth Volume 9 Supplement 1, 2009: Stillbirths – the global picture and evidence-based solutions. The full contents of the supplement are available online at http://www.biomedcentral.com/1471-2393/9?issue=S1.
Authors' Affiliations
(1)
Division of Maternal and Child Health, The Aga Khan University, Karachi, Pakistan
(2)
Department of International Health, Bloomberg School of Public Health, Johns Hopkins University, Baltimore, USA
(3)
Saving Newborn Lives/Save the Children-US, Cape Town, South Africa
(4)
International Perinatal Care Unit, Institute of Child Health, London, UK
(5)
Health Systems Research Unit, Medical Research Council of South Africa, South Africa
Copyright
© Bhutta et al; licensee BioMed Central Ltd. 2009
This article is published under license to BioMed Central Ltd. This is an open access article distributed under the terms of the Creative Commons Attribution License (http://creativecommons.org/licenses/by/2.0), which permits unrestricted use, distribution, and reproduction in any medium, provided the original work is properly cited.