Research article

Open Access

Open Peer Review
This article has Open Peer Review reports available.
Disabled women's experiences of accessing and utilising maternity services when they are affected by domestic abuse: a critical incident technique study
BMC Pregnancy and Childbirth
2015
15:181
Received: 21 April 2015
Accepted: 10 August 2015
Published: 20 August 2015
Abstract
Background
Women and their babies are entitled to equal access to high quality maternity care. However, when women fit into two or more categories of vulnerability they can face multiple, compound barriers to accessing and utilising services. Disabled women are up to three times more likely to experience domestic abuse than non-disabled women. Domestic abuse may compromise health service access and utilisation and disabled people in general have suboptimal access to healthcare services. Despite this, little is known about the compounding effects of disability and domestic abuse on women's access to maternity care.
Methods
The aim of the study was to identify how women approach maternity care services, their expectations of services and whether they are able to get the type of care that they need and want. We conducted a qualitative, Critical Incident Technique study in Scotland. Theoretically we drew on Andersen's model of healthcare use. The model was congruent with our interest in women's intended/actual use of maternity services and the facilitators and barriers impacting their access to care. Data were generated during 2013 using one-to-one interviews.
Results
Five women took part and collectively reported 45 critical incidents relating to accessing and utilising maternity services. Mapped to the underpinning theoretical framework, our findings show how the four domains of attitudes; knowledge; social norms; and perceived control are important factors shaping maternity care experiences.
Conclusions
Positive staff attitude and empowering women to have control over their own care is crucial in influencing women's access to and utilisation of maternity healthcare services. Moreover these are cyclical, with the consequences and outcomes of healthcare use becoming part of the enabling or disabling factors affecting future healthcare decisions.Further consideration needs to be given to the development of strategies to access and recruit women in these circumstances. This will provide an opportunity for under-represented and silenced voices to be heard.
Keywords
Domestic Violence
Maternity Care
Critical Incident
Maternity Service
Domestic Abuse
Background
Domestic abuse (domestic violence; intimate partner violence) is the infliction of physical, sexual or mental harm, including coercion or arbitrary deprivation of liberty [1]. A 10-country study on women's health and domestic abuse reported that 15–71 % of women had experienced physical or sexual violence by their husband or partner [2]. In a 28-country study by the European Union, 22 % of all women in relationships reported physical and/or sexual violence from a current or previous partner since the age of 15 [3]. Domestic abuse occurs in different relationship configurations, irrespective of gender or sexuality [4]. Certain individuals are at higher risk of experiencing domestic abuse and this paper focuses on women with a disability who experience domestic abuse during pregnancy.
Domestic abuse and disability
Disability is considered a "long-term physical, mental, intellectual or sensory impairments which in interaction with various barriers may hinder their full and effective participation in society on an equal basis with others" [5]. This terminology reflects the social model of disability, recognising that people have impairments but are disabled by social factors [6]. Disabled women are at increased risk of domestic abuse [7, 8]. Over 50 % of disabled women have experienced some form of domestic abuse [3, 6, 9] and they are at particular risk of severe physical violence [10]. Disabled women can face particular forms of impairment related abuse, such as withholding assistive devices [6, 11, 12] or refusing to provide basic care [13, 14]. Domestic abuse among disabled women is linked to difficulty gaining or maintaining employment, maintaining social networks, living independently and mental health problems [12].
Domestic abuse and pregnancy
An estimated 30 % of domestic abuse begins during the perinatal period [15, 16]. In a European 28-country survey, 20 % of the victims of current partner violence and 42 % of victims of previous partner violence reported physical or sexual abuse during pregnancy. Domestic abuse during pregnancy has a 'double impact', potentially harming both the woman and her unborn child. Domestic abuse is a prime cause of maternal deaths during childbirth [17] and pregnant women experiencing violence are at a higher risk of homicide than those who do not experience violence [17, 18]. Domestic abuse is also linked with adverse foetal outcomes, including premature birth, low birth weight, infection, placental abruption, foetal injury and death [19]. Despite these risks, many abused women delay accessing maternity services until the third trimester, placing them at risk of undetected pregnancy complications and inadequate care [20–22].
Domestic abuse, disability and pregnancy
An estimated 9.4 % of women giving the birth in the UK each year have one or more limiting long standing impairment or health condition [23], and approximately half of these women will experience domestic abuse [24]. According to the World Health Organization, individuals who fit two or more vulnerability categories (women, children, disabled people, migrants, people with HIV/AIDs or experiencing domestic abuse) face particularly complex barriers to healthcare [1]. Research in the UK [6, 25, 26] and US [12] has provided some insight into disability and domestic abuse more generally, however, there is a lack of research about access to services for disabled women who experience domestic abuse during pregnancy. Potentially, the co-existence of disability and domestic abuse may compound barriers to accessing good maternity care [6, 7, 9, 27]. Until there is a good understanding of the relationship between disability, domestic abuse and pregnancy, the best strategies for achieving universal access to maternity care will remain elusive. The purpose of this study was to address this gap in empirical knowledge by listening to disabled women's experiences of accessing and using maternity services when they were affected by domestic abuse.
Research questions
For disabled women who experience domestic abuse, what are the:
1)

Barriers and facilitators to access and utilisation of maternity services?

2)

Impact of previous experiences of maternity services on future access and utilisation?

3)

Implications of the barriers, facilitators and experiences for service delivery and improvement?
Theoretical framework
Clear and consistent use of theory improves the quality of qualitative research [
28
]. The theory underpinning this study was Andersen's model of healthcare use [
29
], which presents healthcare use as determined by people's predisposition to use services, their need for healthcare and the enabling and disabling factors that influence their access to care [
30
]. Originally developed in the 1960s to explain and predict the factors influencing the use of acute services, the Andersen model has been subject to various modifications and revisions since its inception [
29
]. From our extensive review of the literature undertaken for an earlier stage of this study [
22
] we believe we are the first to explore its use in the context of maternity care. Bradley and colleagues [
31
] criticised the model for ignoring the psychological factors influencing healthcare use and, in collaboration with Andersen, added an additional four components to the model: attitudes; knowledge; social norms; perceived control [
31
]. These additional components combine the strengths of models such as the Theory of Planned Behaviour, which focus on individual factors, with the structural focus of the Andersen model [
32
]. We anticipated that individual factors, as well as aspects of the environment, would impact upon the health-seeking behaviours of disabled women affected by domestic abuse, therefore we applied Bradley's revised version of the model to our research (Fig.
1
).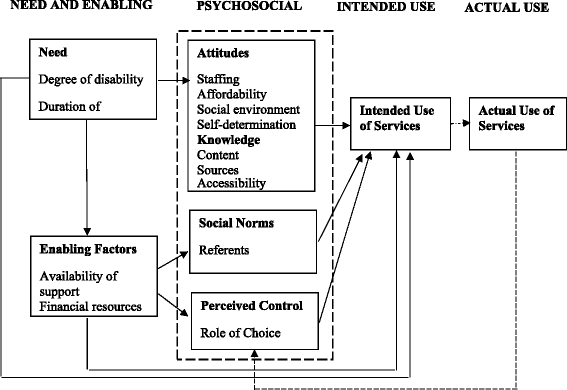 Methods
We conducted a qualitative Critical Incident Technique (CIT) study in Scotland. CIT was developed to evaluate and improve the outcome of flying missions during World War II [33] and has since been embraced by different disciplines. Data collection and analysis in CIT focuses on actual behaviour and ensures that research is based on how things really are, rather than individuals' perceptions of how things should be [34]. This is especially important in applied healthcare research. Also, CIT's potential to uncover the specific behaviours, motivators and consequences behind actual healthcare access and utilisation means that it was aptly suited to our study. We wanted to identify how women approached maternity care (behaviour), why they accessed services (motivators) and whether they were able to get the type of care that they needed and wanted (consequences). CIT can be used in conjunction with any theoretical framework to classify, understand and interpret participants' behaviours [33]. Focusing on behaviour, motivators and consequences complemented the main domains of the Andersen model [31] and gave us a practical means of identifying actual examples relating to need and enabling factors; psychosocial factors; intended use; and actual use.
Results
We used Andersen's model to organise our inductively derived themes and critical incidents. There was considerable fit between our data and the four psychosocial domains: 1) knowledge; 2) attitudes; 3) social norms; 4) perceived control [
31
]. Theoretical frameworks are often adapted to achieve best fit with the data [
28
] and, although we gave credence to the other components of the model, we primarily organised our findings around these domains. Critical incidents typically mapped to one predominant psychosocial domain, but could also have relevance to others (demonstrated in parentheses throughout the findings section). Table
3
summarises the distribution of the selected critical incidents across each of the four domains, as well as the distribution of incidents across the entire dataset. We cannot draw statistical conclusions from this, however it highlights the salience of certain factors in relation to others, particularly the importance of perceived control.
Table 3
Distribution of critical incidents across the four psychosocial domains
Psychosocial aspects of the Andersen model within selected critical incidents

Attitudes

Knowledge

Social Norms

Perceived control

Facilitators

3

1

6

6

Barriers

2

1

4

6

Total

5

2

10

12

Psychosocial aspects of the Andersen model across all critical incidents (n = 45)

Attitudes

Knowledge

Social Norms

Perceived control

Facilitators

Barriers

Total

19

17

13

31
Discussion
Very few studies have been able to explicate the complex inter-relationship between disability and domestic abuse during pregnancy. Typically, studies have either focussed predominantly on one or the other [22]. Moreover, the studies which have identified barriers to maternity care for women in this situation tend to focus on the effects of disability – most notably environmental inaccessibility - rather than domestic abuse [22]. Physical accessibility was not raised by the women in our study as a particularly significant barrier to accessing care, with the exception of two women who reported difficulties during examinations because of limited physical mobility. Instead, women's narratives were dominated by fear of disclosure, and the resulting consequences of staff judgement and loss of control. Unlike non-disabled women, disabled women's pregnancies were perceived as "abnormal" and high risk even without the presence of domestic abuse. Women therefore experienced a double fear of disclosure; they risked being judged on the basis of both disability and domestic abuse. Other studies have shown that disabled women are often stereotyped as unfit mothers [53], and this is further compounded by the impact of domestic abuse.
Enquiring about domestic abuse is an important step towards providing appropriate support to women [54]. However, our findings show that disclosure is not only hampered by women's fear of disclosing but also the lack of accessible and inclusive information that takes account of women's additional needs. While we cannot make any definitive correlations between disability and domestic abuse, our findings add to existing literature which highlights the potentially compounding effect of disability and domestic abuse on women's access to good, equitable maternity care. It provides a foundation for future work in this area and more research is required to understand the unique experiences of disabled women affected by domestic abuse during pregnancy.
Limitations
The study was limited by the small number of participants and we have already discussed the implications of this for transferability. Because recruitment was a challenge, we had to adopt different mechanisms to involve women which included different media, including Skype and email. Some may view this approach as unacceptably ad-hoc. We accept that employing multiple data collection modes may hamper the reliability of some studies. It is also possible that the use of different data collection methods, particularly email, may have compromised the consistency and depth of the data generated. But we view our strategy as a reflexive means of reaching women and attempting to include their perspectives. We believe strongly in the importance of inclusive research design and using these approaches ensured that we captured the voices of women who were unable to meet face to face due to disability or domestic abuse. The richness of our data and large number of critical incidents collected means that we have been able to identify some key challenges in the access of maternity care services for this population. This makes the study meaningful in its own right. But additionally, the findings have been crucial in informing the next phase of the research (where maternity staff have developed strategies to overcome the issues identified by women) (forthcoming publication). Our study has highlighted that future research is required in relation to provider-focused strategies that may be effective in reaching out and caring for women who potentially experience compound marginalisation as a result of their disability and domestic abuse.
Conclusion
Equal access to good maternity care is essential to the health and wellbeing of all mothers and their babies. [55] It is imperative that particular groups in society are not excluded from healthcare provision on the basisof biological, socio-economic factors or discrimination [56, 57]. Our study has highlighted some important issues for disabled women affected by domestic abuse when accessing and using maternity services.Crucially, we have demonstrated that the factors influencing access and utilisation of healthcare services are cyclical. The consequences and outcomes of healthcare use (women's satisfaction with the service they received) in turn become part of the enabling or disabling factors affecting future healthcare decisions.Corresponding to the work of Piotrowski and Snell [58] our findings suggest that the more positive women's experiences, the more likely they are to make contact with health services again. Conversely, poor experiences lower women's expectations of services making them less likely to use health services or place their trust in health professionals [59]. Our findings suggest that women's attitudes to accessing care can be transformed by positive experiences. It is essential that maternity care providers empower women throughnon-judgemental, supportive attitudes, allowing them to exercise control in relation to access and utilisation of maternity services.
We have begun to address a gap in knowledge regarding maternity services for disabled women whoexperience domestic abuse [6, 7]. Clearly future research is required in this area. To further validate the findings a useful comparison in a future study is suggested between four groups of women: 1. Women with adisability and domestic violence; 2. Women with a disability without domestic violence; 3. Women without a disability and domestic violence; and 4. Women without a disability and without domestic violence.Additionally, studies on provider-focused strategies to improve access to maternity care are needed, particularly those that explore how to reach out and care for women who potentially experience compound marginalisation as a result of their disability and domestic abuse.
Declarations
Acknowledgements
We would like to thank the women who gave their time to take part in this phase of the study. Our gratitude is expressed to Wellbeing of Women for funding the study.
Open AccessThis article is distributed under the terms of the Creative Commons Attribution 4.0 International License (http://creativecommons.org/licenses/by/4.0/), which permits unrestricted use, distribution, and reproduction in any medium, provided you give appropriate credit to the original author(s) and the source, provide a link to the Creative Commons license, and indicate if changes were made. The Creative Commons Public Domain Dedication waiver (http://creativecommons.org/publicdomain/zero/1.0/) applies to the data made available in this article, unless otherwise stated.
Authors' Affiliations
(1)
School of Health and Population Sciences, University of Birmingham, Birmingham, UK
(2)
Scottish Improvement Science Collaborating Centre, University of Dundee, Dundee, UK
(3)
School of Sociology, Social Policy and Social Work, Queen's University Belfast, Belfast, UK
(4)
Social Dimensions of Health Institute, University of Dundee, Dundee, UK
(5)
Child Protection Research Unit, NSPCC/University of Edinburgh, Edinburgh, UK
Copyright
© Bradbury-Jones et al. 2015